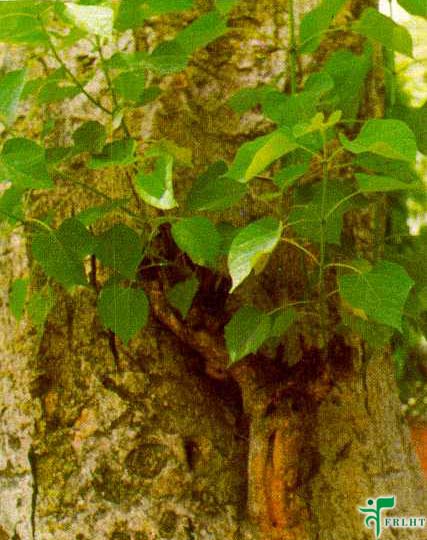 Description: Armed tree to 8 (15) m ; branchlets pubescent; spines axillary, to 2 (6) cm, straight, single or paired. Leaves 3 - (5-) foliolate, to 5 cm; leaflets elliptic, lanceolate or oblong - obovate; terminal ones 4.5 x 2.5 cm; lateral ones 2.5 x 1 cm, charactaceous, glabrous, base cuneate or rounded, margin subcrenulate, apex obtuse, sometimes acuminate, retuse; petiole 2.5 cm; terminal with petiolule to 5 mm. Panicles axillary, to 10 x 4.5 cm; peduncle to 1 cm; pedicel to 2 mm, pubescent. Flowers 5-merous, bisexual, 2.5 cm across. Calyx-tube cupular, to 5 mm; lobes 4 or 5 , traingular. Petals 5, white, oblong, subequal, 1 x 0.6 cm, fleshy, spreading. Disc obscure. Stamens infinite, ca.50; filaments to 3mm, basally subconnate; anthers oblong, to 4 mm. Ovary ovoid, > 10-celled; ovules infinite per cell; stigma subsessile, oblong. Berry ovoid, 8 x 6 cm, woody; seeds infinite, oblong, to 8 x 4 mm. Reference: Matthew, K.M. 1983. The Flora of the Tamil Nadu Carnatic. Vol. 1 (3 parts). Rapinat Herbarium, St. Joseph's College, Tiruchirapalli.
How to Grow: It can be propagated using seeds as well as vegetaive means. 1. Natural regeneration by seed is not adequate. The seed does not retain viability for long and regeneration by root-suckers appears to be the chief mode of propagation in nature. 2. Seed Propagation The seeds should be obtained from fruits collected off the trees and not from the ground, Ripe fruits are collected during March
Care regime: It grows in areas with mean annual rainfall ranging from 500 to 2000 mm. It is drought hardy, often found in dry localities. It is found in stiff, dry, clayey as well as alluvial soils.
Parts Used: -