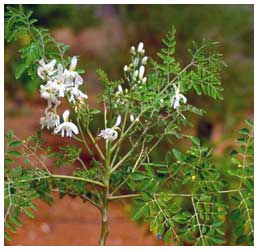 Drumstick (English)
Sohjna, Sahijana (Hindi)
Nugge (Kannada)
Murinna (Malayalam)
Shevga (Marathi)
Sigru (Sanskrit)
Murungai (Tamil)
Description: It is a medium sized tree that grows up to 12 metres tall. Leaves of the tree are large, up to 50 cm long, and are divided into numerous leaflets. It bears pinkish-white and honey scented flowers in large bunches. Fruits of the tree are long pods and commonly known as 'drumsticks'.
How to Grow: The tree is extensively cultivated for its fruit that is used as vegetable. Even though the fruits are readily available in the market, the tree needs to be raised in the home herbal garden for its leaves, flowers and gum, which are used in the treatment of many primary health care ailments. Only one tree is adequate per household. However, it needs a large area in the home herbal garden for its optimum growth and is, therefore, recommended for planting only in those households having adequate space. Not suitable as a pot plant.
Care regime: This tree needs watering only till its establishment. Once established, it needs only occasional watering. The tree is susceptible to insect attacks and requires periodic monitoring. If need be herbal insecticides may be sprayed to control pest population.
Parts Used: Leaves, flowers, fruits and gum
Collection: Leaf-bunches, flowers and fruits can be collected with the help of a long-handled hook. This plant exudes a resinous gum from injured parts of the stem. Stem of the tree is specifically given sharp, superficial cuts for the purpose. The deposited gum is scraped with the help of a knife and kept for future use.